Sunny, Huge 2 Bedrm, 1 1/2 Blocks from the Davis Square T
Description | Photos | Availability & Price
Description
This is a very large 2 bedroom apartment with 2 bathrooms, 2 living rooms and many amenities.
It has two floors connected by an oak spiral staircase. The basement level has a large living room, a bathroom, and a bedroom. The first floor has a large double living room, a large wood-paneled bedroom with its own bonus room, a bathroom with jacuzzi tub, the kitchen, and access to the private deck.
The double living room on the first floor is really two large rooms connected by an open arch (see photos). Each room has hardwood floors and there are 2 decorative (non-functioning) marble fireplaces. The apartment has it's own large deck, accessed from the living room.
The unit has a large modern kitchen with tiled floor, an island and breakfast bar. The kitchen includes a new oven and refrigerator, as well as dishwasher and disposal.
The unit also has central air-conditioning and an optional alarm system.
Off-street park spaces is available for an additional fee. $200 per month for two parking spaces consist of one space in the garage (with remote garage door opener) and a tandem parking spot in front of the garage. Or, $100 for one outdoor parking spot.
On-street parking is permit only and residents can obtain a resident-parking sticker from the City of Somerville.
Laundry and a small amount of storage are available in the basement.
Photos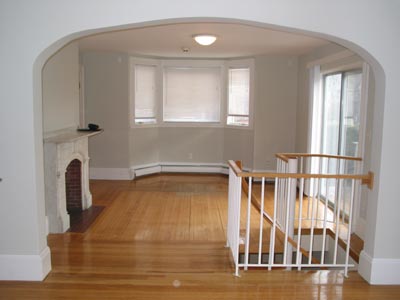 1st Floor Living Room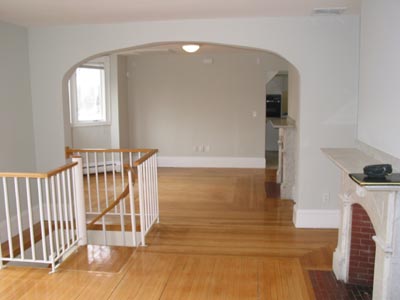 1st Floor Living Room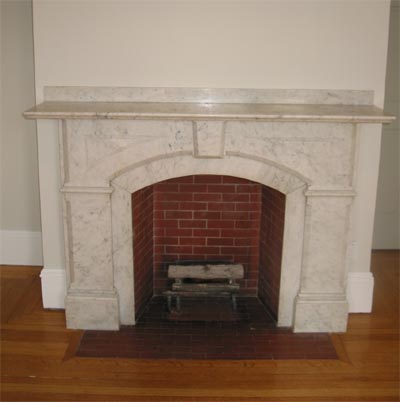 The first floor had 2 of these decorative (non-working) marble fireplaces.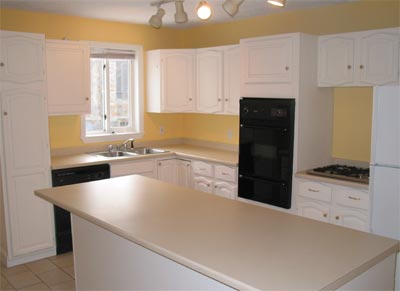 Spacious kicthen with island, beakfast bar, dishwasher, disposal and
wall mounted oven.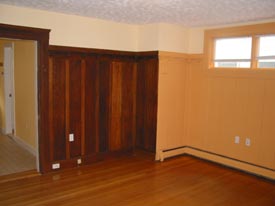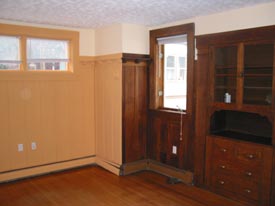 The large bedroom on the first floor has built-in cabinets and a bonus room (see photo below).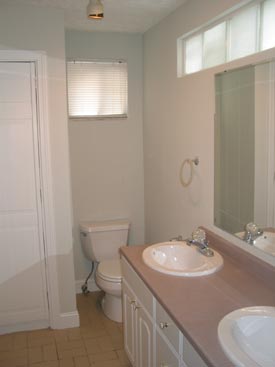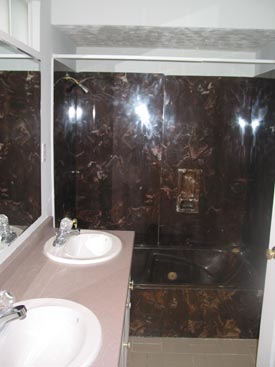 Large bathroom on the first floor with whirlpool tub and double sinks.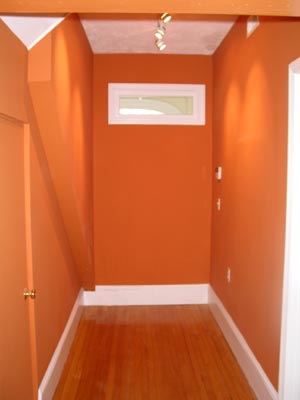 Bonus room that is part of the 1st floor bedroom. Use
it for mini-office or a dressing room.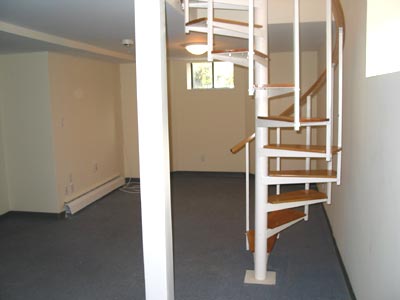 The basement has a large living space, as well as a
bedroom and bathroom (bed and bath not pictured).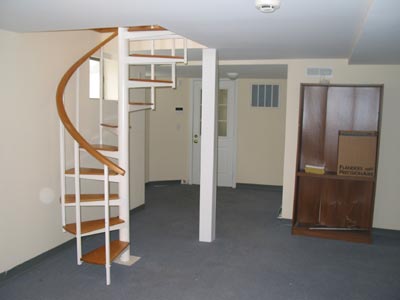 Another view of the large basement living rooom.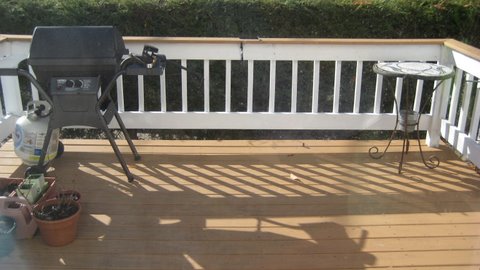 The deck, accessible from the living rooom.
This unit has been rented. Check back in May or June to see if this unit or a similar one are available for September 1.
Hot water is included, but other utilities are not. We are asking for first month's rent at the time you sign the lease, and last month's rent plus a one month security deposit when you move in. We would like a lease through August 31, 2015.
Offstreet parking is avaialble for an extra fee: $100 for one outdoor spot or $200 for two spots (one garage spot and one outdoor spot).
THERE IS NO FEE.
Contact Us for more info or to set up an appointment to see the apartment.